Amana AVPEC Air Handlers and Coils
Model: AVPEC
Multi-Position, Variable-Speed Air Handler

Up to 23 SEER
All-Aluminum Coil
Electronic Expansion Valve, Inverter-tuned
SmartFrame™ Sub-Structure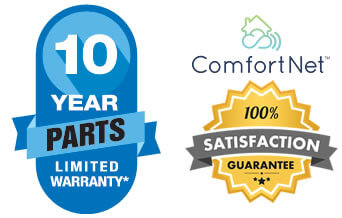 Description
Features
ComfortNet™ Communications System Compatible
Amana® brand AVPEC Air Handlers are ComfortNet Communications System compatible. ComfortNet provides a host of comfort and convenience features that can offer a new level of home comfort control, starting with the easy-to-read, full-color LCD display on the ComfortNet thermostat.
The full-color touch screen display allows easy viewing and quick, simple adjustment to your programmed schedules and temperature settings through the user-friendly interface. You have the flexibility of customizing the screen appearance. ComfortNet gives you the convenience of viewing the outdoor temperature from the thermostat and allows you to see a history of any system changes made over time.
Variable Speed ECM Blower Motors
Variable Speed ECM Blower Motors provide gradual startup and shutdown for quiet, unobtrusive operation with lower energy consumption compared to standard efficiency motors across a wide range of operating speeds. Constant low-speed operation for outstanding filtration and comfort level (models AVPEC and MBVC).